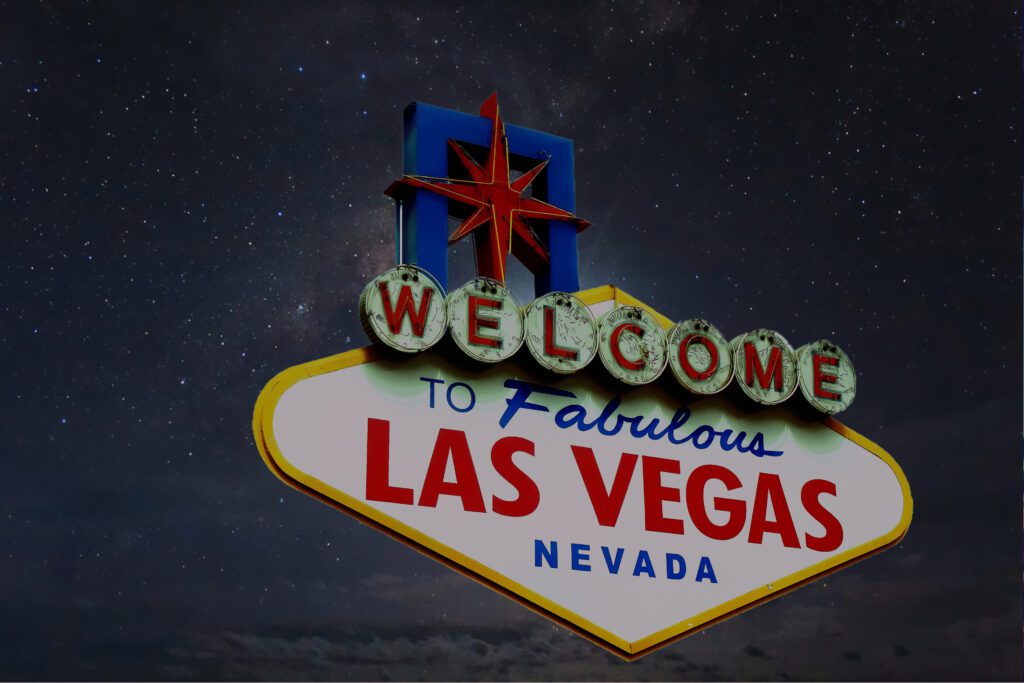 Las Vegas is a world-renowned gambling resort best-known for its iconic hotel-casinos and vibrant nightlife scene, but we would be remiss to limit the city to just that – the bright lights are eye-catching and exciting, but don't let it distract you from the incredible, unique, and creative cuisine the city has to offer.
It's something tourists often underestimate about Las Vegas, but something the locals are well-aware of and they take advantage of it on a daily basis – I mean, who wouldn't, right? Whether you're on the Strip, Fremont Street, or venturing out into the suburbs, you'll have a plethora of quality options to consider.
With Las Vegas being one of the most diverse areas in the United States, you'll find an abundance of cultural restaurants in the area, but you won't be limited to traditional cuisine. For example, Il Toro E La Capra is a popular eating spot in the city that boasts an exceptional Italian-Mexican infused tasting menu.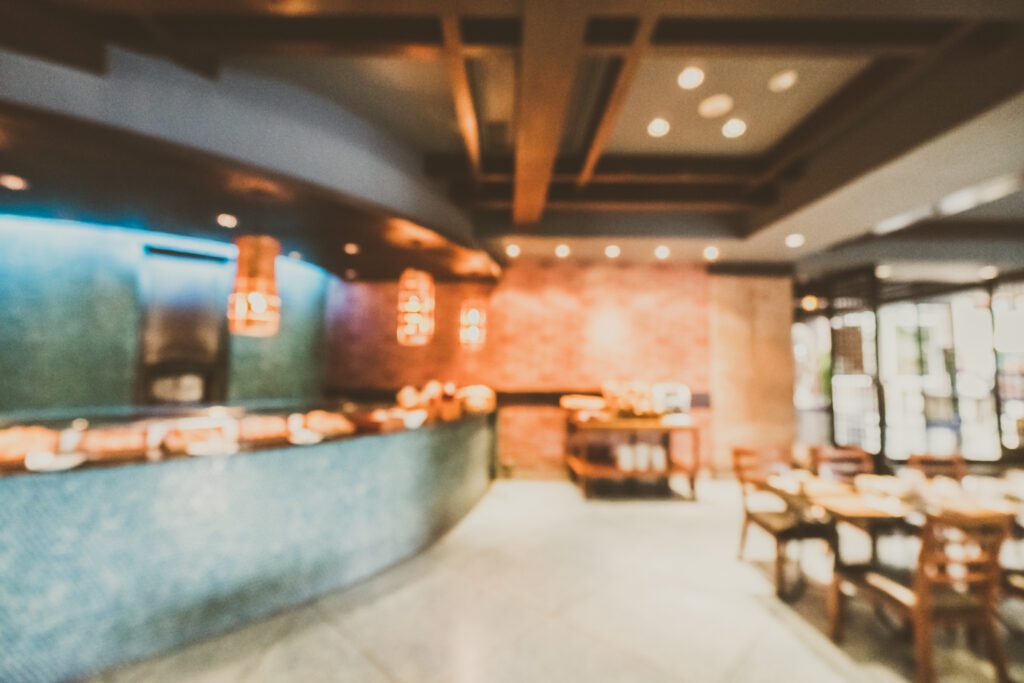 Popular Restaurants on the Las Vegas Strip
The Las Vegas Strip – an iconic four-mile stretch of hotels, casinos, and attractions along Las Vegas Blvd. – is one of the places to be when in Las Vegas. While many people go there to gamble and try their luck in a casino, others are more interested in the wide array of famous restaurants awaiting their reservation.
With hundreds of restaurants worth a visit on the Strip, it would take years to experience each and every one of them. While that's feasible for some people (we're looking at you, locals), others are limited with their time and only have a few days to work with. For those people, here are some must-see options:
1. Gordon Ramsay Hell's Kitchen
Gordon Ramsay Hell's Kitchen is located in front of Caesars Palace on the Las Vegas Strip. Inspired by his namesake television show, fans will take notice of the red-blue design in the kitchen and can also enjoy a contemporary bar offering the latest trends in mixology in the main dining room – let's not forget the private dining room.
2. Mon Ami Gabi
If you're looking for a French bistro that'll make you feel like you're in Paris, then take your loved one(s) to Mon Ami Gabi – located streetside underneath the Paris Hotel, which is shaped like the Eiffel Tower. Their menu features fresh seafood, Steak Frites, exquisite bites, French rolling wine carts, and so much more.
3. Eataly
If you find yourself craving some good Italian food and you're on the Strip, then you'll fall in love with what Eataly has to offer. What makes Eataly so unique is that it's not just a restaurant – they also have a market with high-quality product, counters and cafes with additional food options, and private sophisticated dining room.
4. Top of the World
Some locals don't consider the Stratosphere part of the Strip and it might require you to take an Uber if you're from out of town, but it's not that far away and their Top of the World restaurant is a must-visit for any food enthusiast. You'll have the best view of the Vegas valley with a restaurant that sits 800 feet high.
5. Estiatorio Milos
Our final restaurant on the Las Vegas Strip is a Greek and Mediteranean hotspot that specializes in seafood. Estiatorio Milos is located inside the Venetian Resort and boasts some of the freshest fish you'll find on the Strip. The restaurant also offers a market and produce their own Greek yogurt from scratch.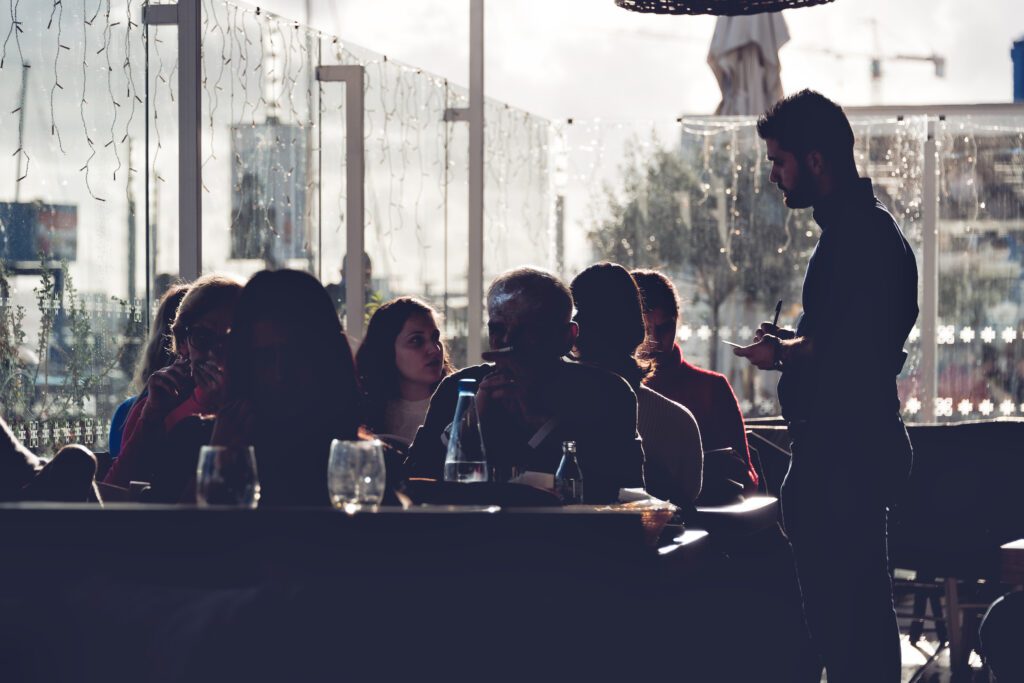 Popular Restaurants on Fremont Street
Commonly referred to as 'Downtown Las Vegas,' the Fremont Street Experience is often a preferred spot over the Strip – at least from a local's perspective. You've got street performers, live music, hourly light shows, and an abundance of entertainment to enjoy before or after you grab a delicious bite to eat.
If you're down to explore, there are a number of historic and iconic casinos located on Fremont Street – including the Golden Nugget, El Cortez, Binion's, and Plaza. For those that plan on taking a trip to Fremont, here are five of the most popular Las Vegas restaurants found along the Fremont Street Experience.
1. Dick's Last Resort
Dick's Last Resort is one of those restaurants you have to go to at least once in your life. It's a restaurant chain that isn't unique to Las Vegas, but they have a location at Neonopolis on Fremont Street and it's definitely worth a visit – but be prepared for some heckling. There are also several unique bars nearby.
2. Heart Attack Grill
Eating a healthy diet is essential to living a long and happy life, but that doesn't mean you shouldn't get a cheat meal every once in a while – ad there's no better cheat meal than the one you get at Heart Attack Grill. It's located on Fremont Street and patrons are required to don hospital gowns upon entering.
3. Hugo's Cellar
Take yourselves back to the Old Vegas lifestyle that brought the city its charm. They described themselves as an 'old-school joint' that ensures ladies are greeted with a rose and guests are treated to a tableside salad bar. It's located inside the Four Queens Hotel and has been a staple in Vegas since 1973.
4. Top Of Binion's Steakhouse
For a great view of Fremont from 24 stories high, you can enjoy one of the best steaks in town at the Top of Binion's Steakhouse – located in the, you guessed it, Binion's Gambling Hall and Hotel. The famous restaurant has a vintage vibe to it and embodies what the Fremont Street Experience is all about.
5. Vic & Anthony's Steakhouse
It's no secret that Fremont Street is home to some of the best steaks in the city, but Binion's Steakhouse isn't the only one supplying them. Vic & Anthony's Steakhouse, which is located inside the Golden Nugget Hotel & Casino, is where you want to be if you want a fine and elegant dining room on Fremont Street.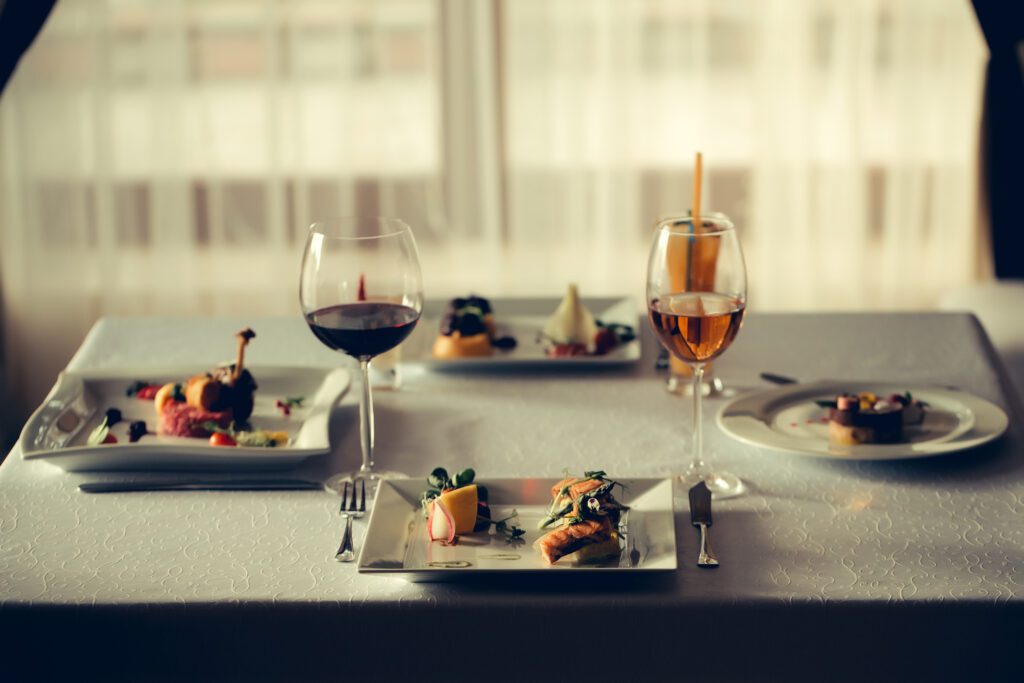 Popular Restaurants in Summerlin
If you're a local, then Summerlin is THE place to be on any day of the week – especially with the addition of Downtown Summerlin (an outdoor shopping, dining, and entertainment complex) and the Las Vegas Ballpark (home of the Las Vegas Aviators, the AAA-affiliate of the Oakland Athletics of the MLB).
For those that are visiting Las Vegas, Summerlin is a hidden gem that not many people will explore – which is unfortunate because there's so much to do! Whether you want to shop or attend a baseball game, you'll need to fill that body up with energy at one of the best restaurants in Summerlin:
1. Cap't Loui
With 16 locations across the country, Cap't Loui isn't exclusive to the Summerlin community – but it's still a must-visit restaurant if you're in the area and craving some seafood. They use a signature Cajun sauce that'll knock your socks off and are known for their excellence in rach flavor, quality, and variety.
2. Public School 702
Located in Downtown Summerlin, Public School 702 is the place to be if you're getting ready for a baseball game or doing a little shopping. The industrial-chic gastropub is known for its tap beers and chef-driven menu that features all the classics – including a unique brunch menu and a kid's menu!
3. Echo & Rig
It's not just a steakhouse – it's a butcher shop that allows you to eat inside or take it home and cook it yourself (or both, of course). Echo & Rig is located inside Tivoli Village, a trendy shopping and dining center located across from the Suncoast Casino. Trust us, you won't want to miss their happy hour!
4. Trattoria Reggiano
Who's in the mood for Italian? If so, then you'll have to check out Trattoria Reggiano – located in Downtown Summerlin. It boasts a family-friendly environment with authentic Italian dishes – including hand-tossed, brick-oven pizzas that are worth the consideration. Don't forget to make a reservation!
5. Ohlala French Bistro
Ohlala French Bistro features a trendy atmosphere fit with chandeliers and a wine room – no wonder why so many people rate it as one of the greatest French restaurants in the valley! It takes a modern spin to the traditional French dishes we've all grown to love – if you don't love French food, you will after this!
Saving the Best for Last…
There are those that love Italian food, those that love Mexican food, and those that love an infusion of both. If you're one of those that love Italian-Mexican infused restaurants in Las Vegas, then you've come to the right place. We're confident that you're going to enjoy what Il Toro E La Capra has to offer you and your family.
Feel free to contact us at (702) 331-6090 or email us at [email protected] to schedule your reservation and don't forget about our popular Happy Hour – which takes place Monday through Friday from 3pm to 6pm. We can't wait to serve you and your closest friends and family members!